I'm not sure about other countries, but in Japan, many lingerie store staffs tell customers "Ill-fitting bras lead to boob tissue migration to the armpit and back."
But would it really? I don't think so.
I have a picture of my back, which was taken a while ago.
And I have another picture, which was taken app 12 hours after.
The first picture was taken after wearing an ill-fitting bra (I was unaware of that at the time, though). At the time, I was wearing a bra with cups too small for my breasts.
My mom told me "Oh, Hiromi! You have an ugly back!"
I didn't believe her until she showed me the picture she took.
So this is how it looked.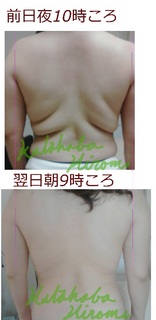 I took off the bra 3 hours prior to the photo shoot of the top picture.
And the picture on the bottom was taken in the next morning, app 12 hours later.
Fat don't appear and disappear this quickly. It takes months.
So, this ugly "back fat" is actually not fat tissue, but probably fluid retention.
This doesn't happen to me any more (at least, it doesn't happen at this degree), because I am more careful about what bras I wear now.
An ill-fitting bra will block the body's circulatory system. The lymphatic fluid is not properly drained in to the capillaries/veins, so the fluid stays around the body tissue. The breast tissue may be dislodged for an inch or two (depending on the size of the breasts and the angle of displacement), but it's impossible to move over 3 inches to a completely different body part. That's physiologically wrong. If that could happen, no one would have breast augmentation.
But I don't think fluid retention can be good. After looking at the two pictures, I promised myself to buy proper fitting bras. That's when I gave up on Japanese bras and moved on to bras made in UK.
Most people won't look at their back, but if any of your friends' facebook picture shows your "back fat", don't immediately go on a diet. It might be just the bra, cutting off the body fluid drainage system.
*Please ask before reposting the pictures I used in this blog.
I follow Copyright Law in Japan, and reposting my pictures to at another website without my consent is violation of my Japanese copyright.
Other English Articles
About me
Where/How to find bras in Japan
Petite, goblet body shape, short torso woman wears a wrap dress
Finding large size bras in Japan
Size comparison of Japanese bras and UK bras
Large breasted women underestimate their breast sizes?
Most of the breast cleavage we see are made from ill-fitting bras (395923632)