Finding bras that fit large breasted women can be really tricky in Japan. Most wires in Japanese bras are made to suit narrow rooted breasts, so even with the international size conversion chart, you might end up with smaller bras.
=======================================
If you are visiting/living in Tokyo or surrounding areas, you can contact me personally via katahabahiromi[at]excite.co.jp.
(Change [at] to @)
I might be able give you detailed personal advice, or assist you when you go shopping (no charge during year 2014).
=======================================
Based on my experience, UK34 band and Japanese 80 band feel the same. And Panache Cleo Juna, Cleo Lucy and Curvy Kate Princess bras' UK cup G was larger than
Rui glamourous
J cup.
If you want to find large sized bras in Japan, you should go to a department store and look for a lingerie store that carries Wacoal's "Studio Five."
Their sizing felt completely different from other Wacoal bras.
Click Read more to look at my experience with Studio Five bras.
So, this is my Wacoal Salute bra. Size is 75H. Technically, it is the same as 80G. Obviously, the bra is too small.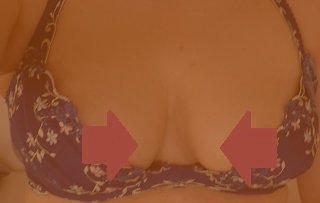 From the side
However, the Wacoal Studio Five bra, size 80G is a good fit for me. Not perfect, but good.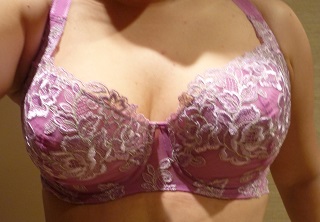 From the side:
Because of my wide root, it feels slightly painful after wearing it for a while. But this is much better than the Salute bra.
The full cup bra has even narrower wires, so they are extremely good for women who has narrow breast root.
Also, the band is very strechy, and is free of unneccessary seams, so you can even go 5cm down and get an even "narrower" bra.
However, Studio Five bras are expensive (one bra costs more than 10,000 yen). But good news to tourists!!
You are exempt from the 8% consumption tax, so you would pay less than I do!!
The best thing about these bras is the fact that the full cup bras contain a supportive bone inside the centre of each cup, making the bra super comfy to wear.
They have slight padding, and the colours are very bright, so it's not for everyone, but if you want larger bras, you should go to a Wacoal lingerie store (in department stores) and look for Studio Five bras. They also carry bridal bras, so if you have large boobs and planning to hold a wedding in Japan, you should try them.
Btw, the 3/4 cup bra is product id IB4151;
Full cup bra (pink) is product id IB3142;
Full cup bra (grey) is product id IB3151.
Information about consumption tax exemption in Japanese department stores:
Info of consumption tax exemption from Takashimaya is listed
here
Info from Mitsukoshi/Isetan are
here
As a general rule, if you are a tourist, you are exempt from paying consumption tax for clothing products (and other daily goods) costing more than 10,000 yen (tax free) or more than 10,800 yen (tax included). Residents of Japan, import agents, and certain people who do not meet the government's criteria.
Please check the government's/tourist info website for a more detailed information about tax exemptions.
Related articles
About me & this blog
(links to all other English articles)
Where/How to find bras in Japan
Why you can't get the size right with Japanese bras
Size comparison of Japanese bras and UK bras