Thanks for visiting my blog! You must be really lost, or confused with bras...Because, you know, coming to my blog? That's a sign of being really lost! lol
A bra probably is the only supportive piece of clothing that helps maintain breast health. But somehow, many women underestimate its importance AND its size, wearing ill fitted bras, causing backfat, backpain and sagging breasts. What a pity!
Why do women, especially large breasted women, underestimate their bra sizes?
CAUSE
Based on the research held by White & Scurr (*1), the traditional bra sizing method (measuring the top bust and underbust) and professional fitting method gave significantly different cup sizes among 45 women.
The traditional method gave underbust measurements that were significantly larger than the measurements given by the professional fitting method, and the cup size were significantly smaller.
So the traditional method is likely to give any women a bra with a smaller cup and larger band size.
Another shocking finding
I searched for more research papers that looked into breasts, and found this paper written by Huang et. al. (*2). Apparently, the average height of breasts got larger every time the cup size went up, but the difference between C cup and D cup were trivial compared to the differences between A/B or B/C.
But the width of the breasts showed continued growth with the increasing cup size.
Therefore, I thought there was a reverse exponential curve when you graphed breast height with cup size, and a linear growth in breast width (as a general rule).
*Hand-drawn image by me based on Figure 15 Figure 16(*2)
And this paper showed another interesting result.
The CT scan showed that breasts contained connective tissues and mammary glands, together with adipose tissues (fat). The more closer to the nipple, the more connective tissue and mammary glands there were; Further away from the nipple, the more fat, less connective tissue and mammary glands there were.
So maybe, because the edge of the breasts just contain fat tissue, it's difficult for many people to differentiate their breasts from torso. This leads to women underestimating their breast size.
Combining these 2 papers...
Women using the traditional method are likely to over-estimate their underbust measurements, and underestimate their cup size.
Also, because its really easy to underestimate their breast width, they are likely to be satisfied with the traditional sizing method, because they don't think their breasts are large as the size given by the professional sizing method.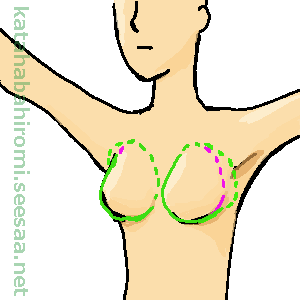 (And looking at celebrities with incorrectly fitted bras every day doesn't help either)
Importance of scoop and swoop
The left side illustrates a woman's breast that hasn't been scooped and swooped, and the right side illustrates when it has been scooped and swooped.
Without doing this, the breast remains collapsed on the torso, leading women to choose smaller bras. Some may show no difference in bra size, but most people would.
I guess some of you reading this may be fine with the traditional method, and some may absolutely love its method (many Japanese people do!).
But the two research papers I found showed evidences that support my hypothesis: "Many women underestimate their breast size." Scoop and swoop! Use the traditional method to find out the starting point, but never assume they give you THE BRA.

References:
*1 White J, Scurr J. (2012). Evaluation of professional bra fitting criteria for bra selection and fitting in the UK. Ergonomics, 55(6):704-11.

*2 Huang SY, Boone JM, Yang K, Packard NJ, McKenney SE, Prionas ND, Lindfors KK, Yaffe MJ. (2011). The characterization of breast anatomical metrics using dedicated breast CT. Med Phys. 38(4):2180-91.