Any woman with an inverted triangle body shape must have experienced difficulties when they tried on clothes that's supposed to flatter her. Well, I have and no wonder why; Most street clothes are designed to fit and flatter bottom-heavy, pear shaped women: the dominant body shape among the female sex. Clothes that are made for bottom-heavy women accentuate the top half of the body and minimize the bottom half of the body. So, when we inverted triangle women wear them, they exaggerate features we want to hide!
The Realisation
Few years ago, I was extremely confused about clothes. I performed countless Google searches of "Women inverted triangle body fashion", "Apple shape fashion" and "Top heavy body what to wear" and became super-conscious about my body shape.
I noticed I had a short torso (I have a tiny gap between my rib cage and hip bone), which made the difference between my waist and hip small. No matter how hard I tried to shrink my waist, it felt impossible. So instead, I decided I have to choose what I wear carefully.
Thinking about body shape
I am Asian, and like most Asian women, I am also petite (petite = below 5'3). But when I look at people around me here in Japan, I don't see other women like me. Most petite women seem to have longer torso than me, and have nice curvy waists.
(Japanese underwear commercial:
http://www.youtube.com/watch?v=S_KfNnHhMAA
)
So I differentiated the typical inverted triangle body shape in two 3 types.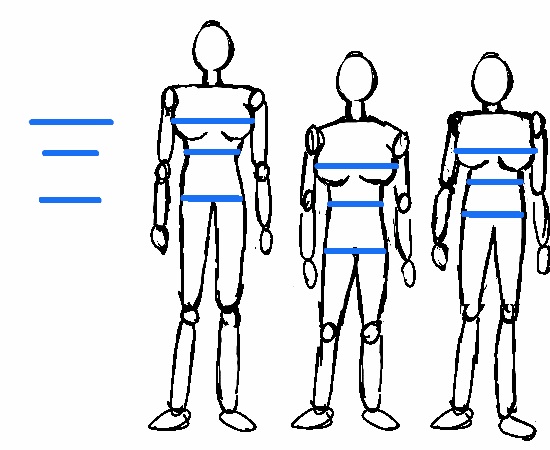 The left body is an example of a woman with balanced torso to leg ratio, and average Caucasian height.
The middle body is an example of a woman with long torso, short legs and average Asian height (petite for Caucasian).
The right body is an example of a woman with short torso, longer legs and average Asian height (petite for Caucasian).
They are all top heavy (inverted triangle), but because their proportions are slightly different, clothes that best flatter their body will be different.
(The bodies may appear to have unrealistic, exaggerated features, but it is easier to explain how to dress them)
Shirt and Pants
For example, let's look at how would they look if they wear a simple shirt and pants.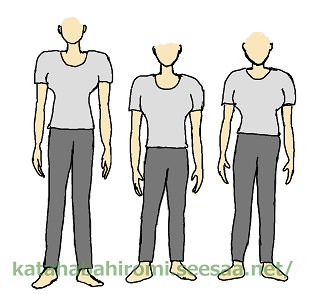 Features that are supposed to be avoided
Lighter colours on top and darker colours on the bottom
: This type of contrast makes your body look top heavy.
Short sleaves that cuts horizontally
: This type of sleave goes right through the arm at chest level, and exaggerates how large your breasts are (not good for those who want to look "modest"); And the arms look fatter with this type of sleave.
Short shirt
: Because there is not much length in the vertical direction, the horizontal width looks comparatively greater.
Slim, dark pants
: Makes the leg look skinnier, making your torso appear fatter.
But just simply reversing the above features won't completely solve the problem.
Especially for the body with short legs. The long pants accentuates her short legs, making her look out of proportion. A body with long torso and long legs should feature its best body part: the waist. People with long torso tend to have tiny waist, so they should utilise this asset and wear a belt at waist level or wear pants with a waist-marking feature.
And to disguise the shortness of its legs, women with short legs should wear a short pants that flows outward. Also, tucking the shirt in should be effective to disguise how long the torso is.
Other considerations
Wearing shoes that stand out helps to balance the body proportion: Volume needs to be reduced at the top but needs to be added at the bottom. Also, wearing a long necklace would help to produce an illusion of a narrower shoulder. Necklaces that have large pendants bring attention to the lower part of the body, away from the breast, and are great to make large breasted women modest if they want less attention to their breast!