Purchasing bras from other countries can be tough, and from Japan? That would probably be the toughest. You might think you've gone mad, because EVERY SINGLE BRA YOU TRY ON DON'T FEEL RIGHT! And you're not alone!!
I am fluent in Japanese, but I never thought bra searching in Japan was easy. I have purchased bras from Australia, UK, US and Japan in the past. Switching from AU to UK, UK to US was not bad, but trying to convert anything to Japan felt impossible.
Why's that?
Reason No.1: The conversion is wrong!!
Japanese girls are small-framed and petite, so it's no wonder why most bras are small. But you must be wondering "Why is this international conversion chart not working?"
Well, to be honest,
they don't work.
FORGET THE CONVERSION CHART!! (for Japanese bras)
Most of the conversion charts I saw said that US/UK band size of 30 was Japanese 65, 32 was Japanese 70, 34 was Japanese 75, 36 was Japanese 80 and so on. This is because Japanese bras (and European bras) are supposed to be -10cm from actual length.
(i.e. it's telling you to measure yourself, take away 10cm and round it to the closest 5s or 10s) (Resource:
bustyresources
)
If that's the case, a Japanese bra band of 80 should fit people with 88cm to 92cm.
Let's measure the actual bra
This is my newest, unworn Japanese bra (Wacoal made).
It's from Studio Five series, and the shop keeper told me "it has expecially stretchy band so you can go down a size if you want a narrower wire."
This is the bra, unstretched. (Click to enlarge)
The measurement is about 71cm, unstreched. (Click to enlarge)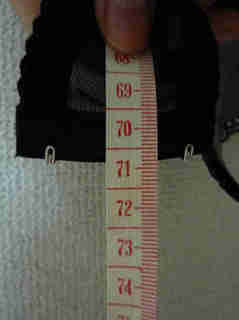 When I stretch this bra, it gets to about 83cm. (Click to enlarge)
"If that's the case, a Japanese bra band of 80 should fit people with 88cm to 92cm."

REALLY?
I think not.
Don't convert it. Just do the maths
Japanese bras are (supposed to be) designed to fit people with that exact underbust measurement. Triumph Japan nor Wacoal Japan tells you add/subtract. They advise people to purchase bands with the closest number to your underbust measurement.
Needless to say, 2.54cm is an inch. So 80cm is approximately 32 inches; 75cm is approximately 30 inches; 70cm is approximately 28 inches, and 65cm is approximately 26 inches. If you follow the +0 inch rule, then you should buy these sizes (based on this simple conversion method)
BUT STOP RIGHT THERE!
Many people can't purchase bras by just converting inches into centimetres. Why?
SOME JAPANESE BRAS ARE SMALLER THAN WHAT IT TELLS YOU.
Reason No.2: Japanese bras are tight!!
I like reading Japanese blogs about bras, and there are many blogs written by lingerie sales staff and ex-sales staffs. I couldn't believe my eyes when I saw these blogs telling people "you need a tighter band to gather armpit fat and back fat into the cups" and "bras' band length are much smaller than the size written on the tag because of this purpose."
This might be true. Maybe most of the Japanese population have squishy backs (* term I saw on
That Bra Does Not Fit Her.com
) The bras I bought from UK stores had slightly shorter band lenghth than the measurements written on the size tag. But MANY JAPANESE BRAS ARE UNBELIEVABLY TIGHT!
Many bras have shorter bands, and tighter elastic.
MANY not ALL, but MAAAANYY!!
Just look at the band material.
If it is a thin mesh of elastic like this one, then it's stretchy.
(look at the picture 4)
But if the band is decorated/lined like these here
One of Triumph's best selling bras in Japan:
Once a Japanese bra fitter told me, bras are supposed to feel tight and slightly uncomfortable...I never went back to that store.
Wacoal's popular bra in Japan (picture 6):
Then the band won't strech.
It's really strange, but Japanese people seem to LOOOOVE lining/decoration on their bra bands.
(As a comparison, look at UK's Panache Tango bra.
They have unlined, non-decorated, stretchy looking bands)
The cups don't stretch
Also, did you notice the heavy padding/lining and side supportive bones beside the cup? These 2 factors make the bra less stretchy, making the bra feel tight when worn.
Bras in US and UK don't have much lining or padding, so the cups tend to strech out & flatten.
I noticed bras with thin/no lining allows the cup to stretch out (and the band to stretch too), making it easier for people with "wide boobs" to place their breast tissue in the cup.
I actually complained
I sent e-mails to several Japan based online shops about the conversion charts they use, but they all didn't want to change their charts and some specifically asked me "not to upload any conversion charts that you created yourself, because it confuses the general consumer."
Bah!!
So silly!! I think the conversion charts that THEY USE are CONFUSING THE CUSTOMERS!!
I actually purchased a bra with band 36 even my underbust measurement was app 80cm, because I use a Japanese band 80 and trusted the conversion chart, BUT THAT JUST WASTED MY MONEY!!
OKAY, I won't upload any conversion charts like they told me!! But I will tell you, in giant letters
"JUST MULTIPLY YOUR UNDERBUST MEASUREMENT (inches) by 2.54 AND Vuo'la!! THAT'S YOUR UNDERBUST MEASUREMENT FOR JAPANESE BRAS"

(You can tell, I'm quite pissed off)
A story of a friend
There used to be an Australian family living in my neighbourhood in Japan, and I used to tutor their youngest daughter for a while. She was in highschool at the time. After they lived in Japan for a year, the sweet child suddenly refused to eat because she thought she was obese.
The mother asked me to talk to her privately, which I did. The daughter said she was too fat to keep on living and was truly upset about her body size.
She was a size 12 in Australia. She was tall and had an athletic build. She was no where close to petite, but she was DEFINITELY NOT fat. I asked her what happened, and she said no bras fitted her in Japan.
I insisted her to showed me her Australian bra (pretty worned out), and the size tag read "14C." I quickly converted that to UK size (which I am used to): which was 36C (US size:36D).
Based on the conversion chart she used, she was supposed to fit D80 or E80 in Japan, but she said she coudln't fit into any of the products sold at the lingerie store she went. Everything was too small, and poor thing, she had cut herself at the side from all the fitting and squeezing. (Her Australian bras were all worn out, and she wanted a new bra in Japan)
She thought she gained weight and was too fat to keep living.
But it was no surprise for me that she couldn't find anything that fitted her in Japan. Her Australian size was about D90 or E90 in Japan. But I couldn't believe she was at that size (her torso looked slimmer), so I worked with her to find out her true size.
It turned out she was actually a 12D or maybe bigger in cup size. I told her most of the bras in Japan probably would still be small for her, so she should purchase her bras when she went back to Australia (and do the scoop and swoop method).
She followed my words, and few weeks later during her school vacation, she got a 12DD bra (which is 34DD in UK size and 34E in US size) back in Australia. She was REALLY happy with the fact that she was actually slimmer and bigger busted, and was literally bouncing with joy. She thanked me and gave me a big hug.
Well, the story doesn't end here. She went to another lingerie shopping with her Asian friends from school in Japan, and this time, she thought she could fit into the Japanese bras. According to her conversion chart, her Japanese size was F75, so she was really confident this time she would fit into the products sold in Japan.
Did she fit into the F75 bra? No. She didn't. And that was MY size at the time. She said I couldn't have been a F cup (or a DD cup, whatever) or a size 12, and she laughed, but I said "F75 is my size" and showed her my bra tag from the back of my shirt. She was terrified.
She then said, "I would never go lingerie shopping back in Japan again." I told her that the conversion to Japanese sizing was wierd. The bras I wore in Australia and the bras I bought immediately after coming back to Japan don't match at all (based on the conversion chart), so it's not that Japanese bras are all crazy small, but no one knows what the actual conversion size.
And that's what I still think.
Don't let the international conversion chart waste your money!
If you are trying to convert the bra size
Look at the conversion chart to figure out what cup size you are.
Measure your underbust (actually, get someone to measure it for you, because it's a bit tricky to do it on your own), look at the measurement in centimetres (or multiply the inch measurement by 2.54), and get the bra with the closest underbust in Japan.
Add the two measurements together (e.g. if you are 32DD UK, then you will be about F80).
For any case, don't go down any cup sizes. You may have to get one cup size larger.
If you don't have much fat on the side and back, you should purchase a bra with underbust measurement +5cm, because of the bras tightness.
Not all bras have the same cup shape, so you should spend some time trying on slightly different cup sizes. But Japanese D cups, E cups, whatever are all quite small, so don't be surprised. Just trust your senses, and if you feel any pain, discomfort, wires digging in, go for a different size!
You are not crazy, you are not fat. It's just the conversion chart is off, and Japanese people like shapewear and prefer shapewear-like, tight, squeezing bras. Remember: Don't subtract anything; Just convert your true underbust measurement to band size in centimetres.
Blogs written in English that helped me out finding bras that really fit me:
The Sophisticated Pair
Boosaurus!
Thin and Curvy
Related articles
About me & this blog
(links to all other English articles)
Finding large size bras in Japan
Where/How to find bras in Japan
Size comparison of Japanese bras and UK bras